Zuma!!! What can I say? Its really good.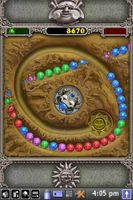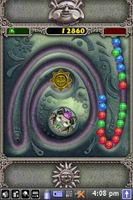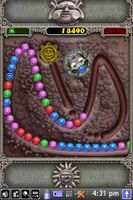 I have tried alot of Astraware's games, and I can say that Zuma is one of the best. Like many of Astraware's PopCap titles, it is incredibly similar to the original.


It runs in Hires+ as well as Landscape orientation


Rotating balls


"Cave" areas where you cant see or hit the balls


Multiple strings of balls


Powerups, such as the target indicator, and different speed altering powerups


PROs: Its really fun to play, and is almost exactly the same as the PC version.
CONs: Zuma loads levels slowly on my TH-55, and gets slow when there are many objects on screen. This is likely because of my poor slow TH-55, and most should not see this problem.
On my game scale of ratings, which again goes from 1-10+, it gets a
9.5


This game is way too fun for its own good, but it runs slow on low speed devices, and I am sure game makers could do a little more to optimize the speed for slower devices.
As always, you can download it
here