PUG Vienna-Palm meet yesterday
On every first thursday of a month, the vienniese palm user group meets at the Pizza Plus. Yesterday, we met. There was no fixed discussion topic this time, and so we chatted about various things.
First of all-our ipod-dude Alexander finally sold his shuffle. Not that he got any wiser-he now has an ipod photo and loaded it with 4000 photos-a procedure that took 2h.
BTW, the image below compares ipod and T3 screen size.
Herwig was in a pretty funny mood at the beginning of the meet. However, his personality soon normalized and he tought us a lot about lighting and the definition of white. Did you know that many white papers actually contain a bit of blue color?
Here you see Sabine, the girlfriend of our PHP-specialist Boris looking at a pile of mac-related newspapers. Since I have a PC, I cannot quite understand al the fuzz-someone please explain it to me!
And here we have Boris himself. This picture shows him in a thinking state-he is thinking how to solve a PHP problem...
Finally, a little camera comparison between SX1(left and Treo 600(right). Please zoom in on the second one in order to be able to fully appreciate the distortions! The image test person is me, just FYI.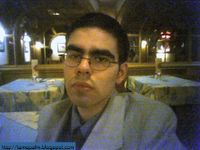 Overall, it was yet another interesting meet. I definitely enyoed my stay. Readers, visit/support your local PUG and tell us about it!