Checking the infrared sender of a Palm OS handheld
We all know this-sometimes, a Palm handheld just refuses to beam anything to another one. If the devices belong to two different people, immediate dispute arises usually-its your fault, your goddamn Palm V is too old, etc.
While I do not know of a way to check the infrared receiver currently, the sender can be checked easily-if there is a cameraphone close-by(not a digicam, as many filter IR).
The steps are easy-just launch the camera app, have the handheld beam something and watch its infrared window through the seeker! These photos show a Palm V, IIIc, Vii-Prototype and TT3 attempting to beam a file from the launcher: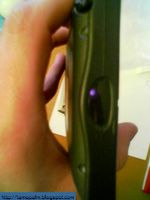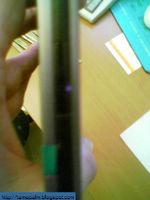 Please keep in mind that the led isn't on all the time-it flickers and usually is on only about 1/5 of the time. It indeed took me quite some time to get these four pics done with the slow shutter of my SX1.
Here
is a little 3gp video(about 400k) that should demonstrate what I mean. It will play in Kinoma 3EX, but without sound...
How do you check your infrared devices?