Hasta la vista, drive mode
We all know Softick Card Export 2 or the drive mode applications that ship with the Tungsten T5 and the Qool QDA-700. Their task is simple-they just simulate an USB stick and thus simplify access to the data on the memory card. While this feature definitely is helpful, both SD and CF cards start to have USB transcievers integrated.
Point Computer has recently started to sell CF cards that have a retractable USB port. A 256MB model costs 45€ and is already available in Germany-buy it at Viadis's. Here is a pretty unsharp photo of the device: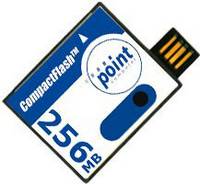 The round knob is the slider for the USB port, and the c't reports 0.9MB transmission speed over this interface-no USB2 here either. SD cards with integrated transceivers arent new anymore-these amazing products from the same manufacturer have already been discussed on PalmInfoCenter and other news portals. Viadis sells a 128MB version for 40€ BTW.
So, what influence will this have on PalmOS handhelds? First of all, it will slowly but surely kill third-party programs like the aforementioned Softick Card Export. Same of course is valid for the integrated solutions. Ultimately, it will lead to an entirely new experience of freedom. There will be no need for carrying bulky cradles just for exchanging data with a PC. Data will become truly mobile-and so will our beloved handhelds.
Do you agree?