Vienniese PUG met on the 6,1,2005-TamsPalm readers get informed
The vienniese PalmUserGroup meets at the first thursday of each month. Ideas are shared and devices are tested-keep on reading for a short report and lots of photos from the event!
This time, we met in a Pub called Bieramt for a last time. It served the PUG well for almost a year, but staff recently got cocky(e.g. calling me Mr.Palm, beeing slow, giving cheeky answers, ignoring drink orders,...). Thus, a new meeting spot had to be found-the members shall soon be notified about it. Well, I was there late by a few minutes(I had to write the TE2 article), and immediately bumped into Alex, our coordinator. He proudly presented his latest achievments-a Tungsten C purchased for 240€ with a memory card and an old Treo 270. In return, he was treated to my Palm Vii and stowaway keyboard prototypes-reviews with more images are coming soon. These two circulated among the users on the meeting, along with my SX1, the TE2 article and the advertising stuff I showed in my blog a few days ago(card and magazine).
Eventually, other users trickled in, having a total of two TT2s, three TT3's, a TC, a V, a Treo 270, a Zire 71 and a Vii accompanied by a huge pile of different mobile phones. These little gadgets provided us with lots of ranting opportunities-we spent like half an hour debugging different configurations(SX1 dials as Nokia 3650, but no SMS).
After that, most problems were solved and the rest was given up.
we then proceeded to swapping different kinds of software using memory cards, bluetooth and infrared as appropriate. We discussed ideas and problems of the platform in a more or less familiar way. It was very interesting and all the members are already looking forward to the next meeting in february.
How are the PUG's in your area? Is there one? Please comment!
Scroll down for a few pretty bad photos(the SX1 isn't all that good in dim light)
Me and Alex, the chairman of the PUG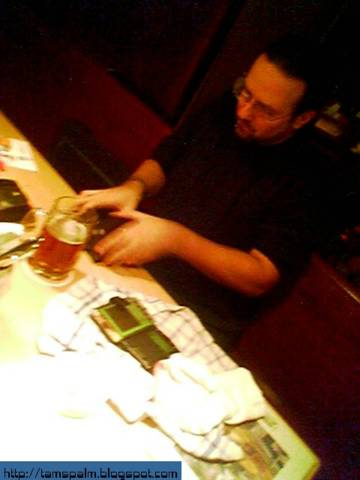 Alex looking at the StowAway prototype
The Palm Vii prototype next to a Palm V-on protective rag(spilt beer...)
A comrade using his T3
Comparing alu and metal hardcases
Oh no-its christmas charol time. Damnit...
Swapping some programs. This is the best way to keep yourself curent and productive-visit your local PUG!
A T3 and a TC exchanging data via IRDA. Bluetooth or WLAN could not be used, because the two handhelds did not have an equal transfer system...
The first victom of the day-Alex's Tungsten C crashed. Luckily, unlike my T3 a few days before, a softreset fixed it...
Me and my T3, in the background our palm-user couple