Rumor-Sony Clie landscape "patch"
From the moment Sony released the first hiRES+-Clie, users demanded landscape mode. While PalmONE handhelds with a big screen(like the T3) have this feature for quite some time now, Clie users never got to enjoy it! However, a company called MobileStream
today announced a product
that should enable these devices to use a landscape mode. Click the images below for bigger versions: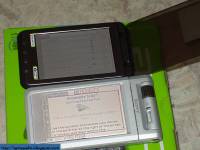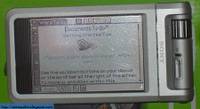 While there is no demo available yet, this report lines in nicely with the 1src rumor that a Sony employee had a landscape TH55 at a big computer mass. MobileStream however goes a bit further and claims that the product has almost no impact on device performance. This would be absolutely impressive, the Tungsten T3 slows down by almost 50% when used in landscape mode! The images also look pretty authentic, as the screens seem to have their regular reflectivity to them.
The interesting thing about this announcement is that the CLIE line has been discontinued quite a logn time ago. However, there still is developer support(even though you can no more access the developer forums,...) for this platform. Maybe Sony should make these handhelds available in the US again?
What do you think about this topic?