The Qoo!/Qool QDA-700 smartphone ships in Germany
There has been a lot of fuzz about Qoo! Labs new Smartphone QDA-700. It has been delayed, reanounced, celebtarted, curswed, etc. And now, finally, it is here and can be purchased in Germany. According to the news portal
Nexave
, the smartphone will sell for an initial price of 469€ without contract, which makes this one of the cheaper smartphones that have a touchscreen. See below for an image of the device: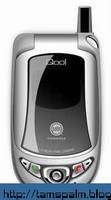 The QDA-700 has standard hardware that will not generate much of a fuzz-lets ignore the screen and other details for now. The Processor is a 200MhZ Dragonball I-MX, and the machine has 32MB of standard volatile RAM. Nobody knows how much of this will be available to users though. The memory expansion is handled with a SD/MMC/SDIO slot, and there is no other wireless communication possibility when you ignore the integrated tri-band GSM/GPRS. So, no bluetooth or WLAN for ist users-who knows if this isn't a step towards carriers who want more data traffic. By the way,
palmDubai
states that PalmSource is working on a Wifi driver-so who knows what will happen next!
The software is a vanilla Garnet, there is no detailled information about the additional software bundle. Some sources state that it will ship with Documents To Go-the only confirmed thing yet is the new PiLauncher picured above. Looking ats its icons you can xsee a lot of new, yet unknown things-who knows what they actually are.
The main features of the phone are its 1.3 Megapixel camera and its QVGA 16bit-screen. The latter is also its achilles heel in my oppinion-the last time such a resolution was seen was with the Handera handhelds-and long time has passed since then. Very few programs are optimized for this resolution, abnd the transition is not as easy as it was with 160² to 320²-you canot simply double the pixels here.
Lets conclude for now-this definitely is an interesting device! If developers start suporting its screen and carriers start subsiding it, it will be a kick-ass phone. It is cheaper then the Treo 650, has a smarter memory system, is a clamshell and has the physically bigger screen.
What do you think?