The magnetic Tungsten E-magnetism continued
Recently, TamsPalm carried a story about a magnetic Tungsten T3. The request for user experiences and images got me an email from a PalmOne insider who-of course-does not want his name published. The photos below show a Tungsten E holding up a 5cent coin. This is interesting, because the TE's are said to ship in a plastic housing. The magnetic field must be really strong because it can break free from the plastic!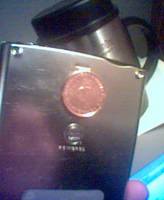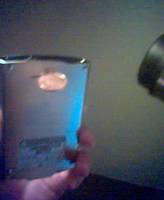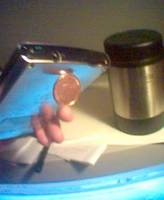 In addition, I have repeated the tests with a Palm V and a Palm IIIc-to no avail. The screw didn't move at all. There is another .3gp video available at
the magnetic Palm gateway
that demonstrates this.
Now lets get the scoop on some of the theories that were commentated when the first article appeared: Since the TE does not have the magnet that some commentators rumored about, it looks as if it really is the speaker! Maybe the magnetization is dependant on MP3 player usage or on some specific application that produces especially magnetic sounds. BTW, I deem this the most probable excplanation by now-especially when you look at the low-res pictures of the TE-the magnetic place is the speaker area!
Well, but I still don't know the exact reason-so keep the images and the reports flowing in!