Firefox 1.0 Party in Vienna
As you all might know, the popular Internet Explorer replacement Firefox was released as version 1.0 a few days ago! On the 20.11.04, the vienniese user community celebrated this. Lets hope that more people will get to use a safe browser..
The party lasted very long(up to 2 o clock in the night) and was very interesting. Various things were discussed-among them Web hosting, Linux desktops(I still prefer KDE), the Palm OS,.... .
The Firefox Browser is a spinoff from Netscape, and is of excellent quality and security. Tabbed browsing allows you to open multiple pages in one window, for example! I can only advice every IE user to upgrade to this new solution-its free, fast and comfortable!
Here are a few pictures of me(in the green suit with the red tie and the spectacles) on the party:
Me and the organizer standing on a table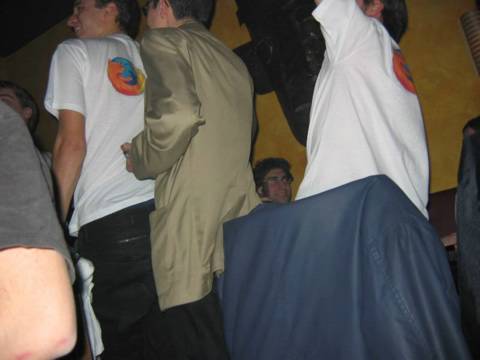 The notorious row....
1.0-Chanting...
The pub was filed with soccer freaks-so our chanting was gladly accepted!